คุณรู้หรือไม่ ทำไมต้อง !! SAP Business One ปัจจุบันเป็นโซลูชั่นเทคโนโลยีด้านบริหารจัดการธุรกิจสามารถขับเคลื่อนเป็นวงกว้าง รวดเร็วยิ่งขึ้น ทำให้ธุรกิจต่างๆ ปรับเปลี่ยนอย่างมากมายด้วยซอฟต์แวร์ ERP (Enterprise Resource Planning) ซอฟต์แวร์ที่ช่วยแก้ไขปัญหาที่ธุรกิจเจอบ่อย เพื่อช่วยปรับศักยภาพได้ทุกขนาดของธุรกิจ ราคาเหมาะสมอีกทั้งครอบคลุมทุกฟังงก์ชั่น การทำงานมีความ ยืดหยุ่นค่อนข้างมากอีกทั้งยังมีโซลูชั่นเพิ่มสูงถึงกว่า 500 โมดูล รองรับความต้องการของลูกค้าเพื่อบริษัทมีการขยายฐาน
What's SAP Business One
SAP Business One เป็นเครื่องมือการจัดการระดับองค์กรที่ออกแบบมาเพื่อปรับปรุงการทำงานตลอดเวลา สามารถจัดเก็บข้อมูลในปริมาณที่มหาศาลหรือจัดเก็บข้อมูลระหว่างธุรกิจ สาขา หรือแผนก ในทุกระดับรวมกระบวนการด้านการดำเนินงานและประสานงานการจัดการความสัมพันธ์กับลูกค้า การจัดการซื้อ การจัดกา การเงิน การวิเคราะห์ การนำเสนอรายงานต่างๆ รวมถึงด้านภาษี SAP Business One ประกอบด้วยฟังก์ชั่นที่ครอบคลุมกับมาตราฐานและข้อปฏิบัติของทุกอุตสาหกรรม ไม่เพีบงทำให้องค์กรขนาดใหญ่หรือธุรกิจขนาดกลางสามารถทำงานได้โดย อัตโนมัติ ยังช่วยให้ธุรกิจขนาดเล็กสามารถใช้ประโยชน์จากการบริกหารทรัพยากรที่มีอยู่ คุณสามารถเลือกเครื่องมือเฉพาะส่วนของการทำงานและการดำเนินการเฉพาะอุตสาหกรรมของคุณ เช่น สินค้าอุปโภคและบริโภค การกระจายสินค้า การขายส่ง ธุรกิจค้าปลีก หรือแม้แต่สายอุตสหากรรม อุตสาหกรรมการผลิต เพื่อธุรกิจบริหารจัดการงานได้สะดวกมากยิ่งขึ้น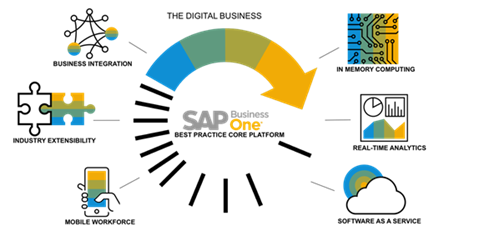 ข้อดีสำหรับการใช้งาน SAP Business One หรือ เรียนรู้ระบบพื้นฐาน SAP Business One
ระบบมาตราฐาน SAP Business One ที่สามารถทำงานได้หลากหลายเพื่อตอบโจทย์ทางธุรกิจ
ระบบบริหารจัดการมาตราฐานพื้นฐาน (Administrator)
ระบบบริหารจัดการด้านธุรกิจ (Business Organization)
ระบบการบบริหารจัดการบัญชี (Accounting and Payment, Financial, Budget, Costing)
ระบบบริหารจัดการด้านการขาย (Selling)
ระบบบริหารจัดการวางแผนธุรกิจ การวางแผนการผลิต ({Production and MRP})
ระบบบริหารจัดการต้นทุนธุรกิจ (Project Management)
ระบบบริหารจัดการด้านการขาย (Selling)
ระบบบริหารจัดการการบริหารหลังการขาย (Business Service)
เมื่อบนโลกใบนี้เต็มไปด้วยการแข่งขัน เทคโนโลยีที่เปลี่ยนไปอย่างไม่หยุดและโลกเราก็ก้าวเข้าสู่การเปลี่ยนแปลงอย่างรุนเเรง จนบางครั้งธุรกิจต่างๆ ปรับเปลี่ยนกันแทบ ไม่ทันแต่ด้วยซอฟต์แวร์ SAP Business One เปลี่ยนแปลงด้านเทคโนโลยีมาพร้อมุกฟังก์ชั่นเพื่อรองรับการตอบสนองธุรกิจอย่างเต็มที่และมีประสิทธิภาพ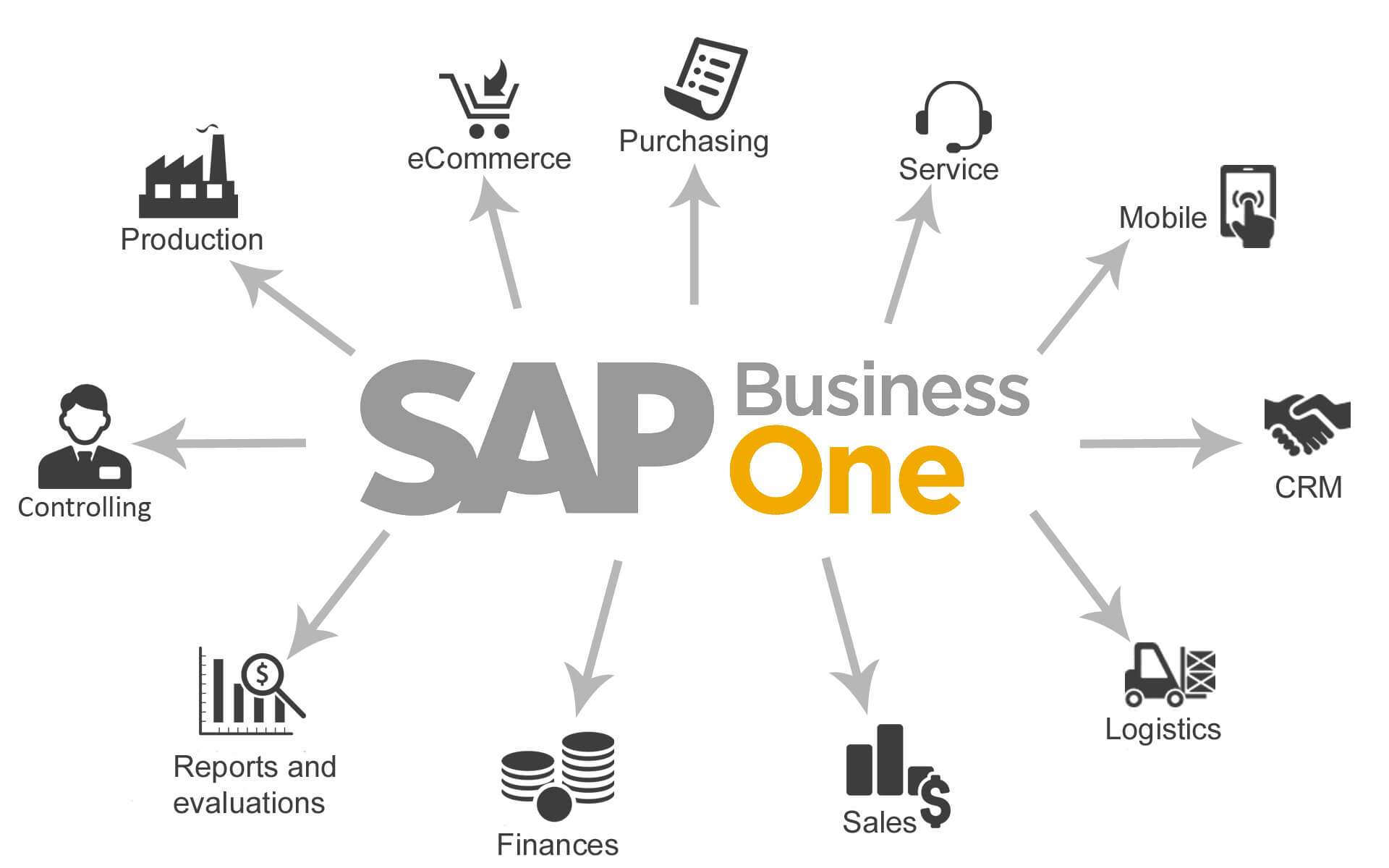 How Does SAP Business One Help Business ?
SAP Business One ซอฟต์แวร์ช่วยบริการจัดการธุรกิจทั้งขนาดเล็ก ขนาดกลางและขนาดใหญ่ ผลักดันธุรกิจให้เติบโตด้วยเทคโนโลยีเพื่อปฏิวัติือุตสาหกรรมที่มีการแข่งขันสูงขึ้น เข้ามามีบทบามวิเคราะห์ข้อมูลธุรกิจรูปแบบเรียวไทม์ ด้วยซอฟต์แวร์ SAP Business One มีฟังก์ชั่นครบครันกว่า 500 โมดูล
ประโยชน์ที่ธุรกิจของคุณเลือกใช้งาน SAP Business One
บริการจัดการระบบบัญชี
บริการจัดการทรัพยากรบุคคล
ควบคุมด้านการคลังที่มีสินค้าจำนวนมาก
วางแผนต้นทุนการผลิต
วิเคราะห์ข้อมูลแบบเรียลไทม์
สามารถแสดงผลรายงานวิเคราะห์เชิงกราฟถึงผู้บริหาร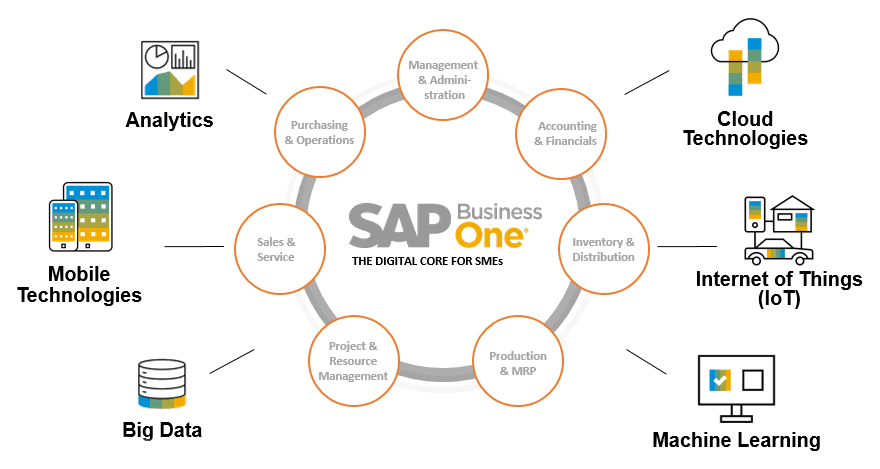 SAP Business One Implemented with Bexsys Gold Partner
Solution Provider in Thainland
SAP Business One ซึ่งได้รับการออกแบบด้วยมาตราฐานสำหรับบริษัทรองรับบริษัทขนาดเล็ก ขนาดกลาง ขนาดใหญ่ แอพพลิเคชั่น SAP Business One เป็นหนึ่งในโซลูชั่นครบครันสมบูรณ์ ในงบประมาณที่ไม่สูงมาก เพื่อเข้ามาบริหารจัดการระบบบริษัท ฝ่ายการผลิต การบัญชี การขนส่ง การคำนวณต้นทุน ด้านบุคคล การขาย ซึ่งบริษัท เบ็กซ์ซิส จำกัด เราให้บริการติดตั้งระบบ ด้วยทีมงานที่เชี่ยวชาญโดยตรงเข้ามาช่วยเหลือเป็นที่ปรึกษาด้าน SAP B1 การนำระะบบ SAP B1 เข้ามาเป็นหนึ่งในโซลูชั่นนั้นตอบโจทย์การแข่งขันตามยุคสมัยด้วยเทคโนโลยี
SAP Business One Technology Enhance Strategies
ปรับกลยุทธ์ธุรกิจด้วย SAP Business One ก้าวสู่เทคโนโลยีเต็มรูปแบบ
ปรับแนวทางธุรกิจของคุณสู่โลกเทคโนโลยี SAP Business One โซลูชั่น 500 กว่าโมดูล
SAP Business One Cloud Solution (ERP) in Thailand
The experts in managed cloud for SAP Business One. Join ever 1,500 enterprises that choose Cloud for Managed SAP Business One cloud service
The Better SAP Business One Solution Complete Functionality
Especially suitable for business one stand in software that drives growth
ต้นทุนซอฟต์แวร์ต่ำ
ธุรกิจสามารถนำระบบ SAP Business One ได้ทันทีซึ่งเป็นระบบที่ได้รับความนิยมอย่่างมาก ซึ่งต้นทุนต่ำและเพิ่มกำไรให้ธุรกิจฟังก์ชั่นหลากหลาย รองรับทุกธุรกิจ
ระบบมีความคล่องตัว
สามารถเข้าถึงระบบ SAP Business One ด้วยฟังก์ชั่นการทำงานที่มีประสิทธิภาพสูง ความยืดหยุ่นตัวระบบสามารถปรับตามธุรกิจด้วยโซลูชั่นที่หลากหลายถึง 500 module
เรียลไทม์ รวดเร็ว สะดวก
ระบบการทำงาน รวดเร็ว ใช้งานง่าย สามารถนำไปใช้งานได้ภายในไม่กี่เดือนเท่านั้น ปรับ Customer นิยมทั่วโลงกว่า 55,000 รายใน 150 ประเทศ
The Business Solution You can Unique for Requirement
บริษัท เบ็กซ์ซิส จำกัด นำซอฟต์แวร์ SAP Business One เพื่อรองรับอุตสาหกรรมต่างๆ เพื่อเสนอลูกค้าและโซลูชั่นอย่างเหมาะสม เสริมความศักยภาพธุรกิจให้แกร่ง ยกทุกระดับอุตสาหกรรมพร้อมบริการด้วย SAP Business One
01
SAP Business One Industry Solutions
02
Leading SAP Business One Support Service
03
SAP Business One Tables Definitions
04
SAP Business One Reporting Analytics
05
SaleAnywhere SAP Business One Solutions
06
SAP Business One on Cloud and On-Premise
SAP Business One Cloud
Discover the affordable solution for managing your business easy
SAP Business One Implementation Services for Business
Accelerate the implementation migration and adoption of SAP Business One Solution with a combination of unique expertise and best paractices our end-of-end implementation services help business you
Administrator & Management
User Administrator
Authorization
Multiple Currencies
Exchange rates
Multiple posting periods
Multi-branch
Date Import
Opening Balances
Approval Process
Calendar
MicrosoftOffice integration
Recurring transaction
Drop-Ship
Inventory & Distribution
Item Management
Item Lists
Price Lists
Goods Receipts
Goods Issue
Multi-branch
Inventory Transaction
Transfer
Serial Number Management
Batch Number Management
Price Lists in Multiple Currencies
Special Prices
Drop-Ship
Sales & Services
Purchase Request
Purchase Quotations
Web-Enabled RFQ
Purchase Orders
Goods Receipts POs
Goods Returns
A/P Invoice
A/P Reserve Invoice
Down-payment Invoice
Down-payment Request
Cancel Manketing Document
A/P Credit Memos
Landed Costs
Accounting & Financials
Chart of Accounts
Journal Entries
Recurring Postings
Financial Reports
Budget Management
Cost Accounting
Incoming Payment
Outgoing Payment
Payment Run
Bank Statemnent Processing
Checks & Credits Cards
Deferred Payments
Account reconcilliation
DATEV / ELSTER(DE)
Fixed Assets
SEPA
Purchasing & Operation
Purchase Request
Purchase Quotations
Web-enabled RFQ
Purchase Order
Good Receipt POs
Good return
Incoming Payment
Outgoing Payment
Payment Returns
A/P Invoice
A/P Reserve Invoice
Down-payment invioce
Down payment request
Cancel Marketinng
Production & MRP
Bills of Material
Item Sets
Good Issues
Good Receipts
Good Receipt POs
GL Account Determination
Life Cycle Management
Item Cost Calculation
Forecasts
MRP
Make to Order
Order Reconnendations
Production Routing
Project & Resource Management
Project Management
Project Stages
Stage Dependencies
Sub-Projects Handing
Project Time Reporting
Internal Project Handing
Employee Master Data
Time Sheet Entries
Resource Capacity Planning
Resource Master Data
Gant Chart Capacity Viewining
SAP Business One Deployment Options for Business
We Are Bexsys Business Solutions - The Gold Partner SAP Business One in Thailand
SAP Business One on Cloud
Key Benefits
Compliance with internal data security policies
Direct control and access to your data, allowing flexibility in local reporting access
Better ability to customize and extend your business process
Leverage internal hardware anmd existing IT infrastructure and resources
Perpetual License with higher upfront cost but long-term TCO
SAP Business One On-Premise
Key Benefits
Compliance with internal Data Security Policies
Direct control and access to your data, allowing flexibility in local reporting accesses
Organizations do not wish to synchronize their important business data such as Product Pricing, Supplier Information etc SAP B1 has to be used as On Premise
Connecting these applications ( Ecommerce, POS, Marketplace, CRM etc) with SAP B1 can be done easily when it is as On-Premise
Perpetual License with higher upfront cost but long-term TCO
SAP Business on Mibile Apps
Key Benefits
Streamline operations, and increase business insight
Reduce capital investment with a cloud-based solution
Minimize IT overhead by eliminating the need to hire experienced IT staff
Increase business agility by enabling a rapid response to new opportunities
Additional Solution
Comprehensive, integrated functionality
Transparent and affordable cost structure
Automatic updates that deliver the benefits of ongoing innovation
Ability to extend and deploy new functionality quickly
Runs on SAP HANA® and Microsoft SQL Server platforms
World-class security delivered by trusted partners
SAP Business One Technology Enhances Strategies Understand of Existing Systems to Keep with the Technology
SAP Business One provides a complete set of tools to help manage and streamline your financial operation. It automates everyday accounting ttasks such as maintaining leadge and journal entries, supporting tax calculations and enabling multicurrency transaction. You can conduct all your banking activities - including processing bank statements and payment as well reconciling accounts. You can also manage cash flow track budgets and compare actuals versus plans to see where you business stands at a moment's notics
Financial Management
Accounting – automatically handle all key accounting processes, such as journal entries, accounts receivable, and accounts payable
Controlling – accurately manage cash flow, track fixed assets, control budgets, and monitor project costs
Simplified – management of fixed assets, the virtual fixed asset function frees you from repetitive manual data entry
Banking and reconciliation – quickly process reconciliations, bank statements, and payments by various methods including checks, cash, and bank transfers.
Financial reporting and analysis – create standard or customized reports from real-time data for business planning and audit reviews

Acquiring new customers is important for success, but maximizing customer relationships is just as crucial. SAP Business One provides the tools to help you efficiently manage the entire sales process and customer lifecycle – from initial contact to final sale, to after-sales service and support. Its integrated functionality provides a complete view of prospects and customers so you can better understand and meet their needs. As a result, you can turn prospects into customers, increase sales and profitability, and improve customer satisfaction
Sales and Customer Management
Sales and opportunity management – track opportunities and activities from the first contact to deal closing
Marketing campaign management – create, manage, and analyze marketing activities.
Customer management – store all critical customer data in one place, synchronize and manage customer contacts stored in Microsoft Outlook
Service management – manage warranty and service contracts efficiently, enter and respond to service calls quickly.
Reporting and analysis – create detailed reports on all aspects of the sales process, including sales forecasting and pipeline tracking, using time saving templates
Mobilize your sales team – manage your sales information on the move with SAP Business One Sales mobile app

Optimize buying and purchasing to increase margins Every small business needs a systematic approach to managing the procurement process, from requesting vendor quotes, to creating purchase requests and paying vendors. SAP Business One helps manage the complete order-to-pay cycle, including receipts, invoices, returns, and payments. Integrated reporting tools let you easily compare suppliers and prices to negotiate better deals and identify opportunities for cost savings
Purchasing and Inventory Control
Procurement – create purchase requests, POs, and goods receipts; link purchasing documents and view document trails for audit purposes; and manage returns, additional expenses, and multiple currencies
Master data management – manage detailed data in a user-friendly interface, view account balance and purchase analyses, and maintain detailed item purchasing information with price lists and tax information.
Warehouse and accounting integration – achieve real- time synchronization of goods receipts and inventory warehouse levels
Process accounts payable invoices, cancellations, and credit memos with a PO reference; plan your material needs; and schedule your purchases accordingly
Easier, up-to-date reporting – generate reports with real-time data and display them in various report formats or dashboards.

Transparent inventory control and distribution SAP Business One provides accurate information about inbound and outbound shipments, inventory, and item location. You can value inventory using standard costing, moving average, FIFO, and other methods; monitor stock levels; and track transfers in real time. You can run real- time inventory updates and availability checks and manage standard and special pricing.
Production Planning
Warehouse and inventory management – manage inventory using various costing models, maintain item master data, and use multiple units of measure and pricing
Bin location management – manage stock in multiple warehouses, by dividing each one into multiple subzones, set up allocation rules, optimize stock movement, and reduce picking times.
Goods receipt and issue control – record goods receipts and issues; track stock locations and transfers; enable consignment, drop-ship, and other orders; and perform inventory and cycle counts.
Production and material requirements planning create and maintain multilevel bills of materials (BOMs), issue and release production orders manually or by backflush, and globally maintain prices for BOMs
Efficient reporting – generate reports with timely data and display them in various formats or dashboards.

See your business clearly with business intelligence, analytics and reporting SAP Business One provides powerful analytic and reporting tools. It includes a complimentary and fully integrated version of SAP Crystal Reports® for SAP Business One, so you can gather data from multiple sources and generate timely and accurate reports based on company-wide data. Integrated with Microsoft Office, SAP Crystal Reports lets you choose from a variety of report formats and control access to information displayed. With optional analytics powered by SAP HANA, SAP Business One takes advantage of in memory computing for analysis and reporting. You gain real-time access to predefined dashboards and reports, as well as productivity tools to support decision- making. You can tailor forms and queries to meet specific requirements without technical training. You can also configure settings to define exchange rates, set authorization parameters, and create import and export functions for internal mail, e-mail, and data
Business Intelligence
Report creation and customization – access data from multiple sources, create new reports, and customize existing ones in a variety of layouts with minimal IT overhead.
Interactive analysis – use with standard MS Excel features to create reports and see your business from new angles.
Intuitive tools – drag and relate, drill downs, search assistance, and workflow-based alerts.
Analytics plus pre-defined KPIs (key performance indicators) help you to see average delivery variance days, top five sales employees
Enhance your reports with powerful visualizations by integrating SAP Lumira for SAP Business One

Empower your people to make smart decisions faster SAP Business One empowers your employees to make smart, confident decisions, faster by capturing all critical information across sales, customers, operations, and finance – making it instantly available company-wide. By integrating this data in one system instead of multiple disconnected spreadsheets, it eliminates duplicate data entry, costs, and related errors. Workflow-based alerts trigger automatic responses when important business events occur, allowing you to focus on the most critical events. You have clear visibility into how your business is performing and greater confidence in the information used to make decisions
Analytics and Reporting
Together with the fully integrated SAP Crystal Reports for SAP Business One you can create dashboards and reports that provide insight into all business areas. Intuitive, interactive drill-down functionality helps you get answers to your most pressing questions. Employees can address customer needs faster, and managers can accurately track revenues, costs, and cash flow to assess performance and take quick corrective action. For even faster information access, the SAP HANA version for SAP Business One provides powerful analytics in real time, making it easier for users to search SAP Business One for the information you need and create standard or ad hoc reports in a moment.